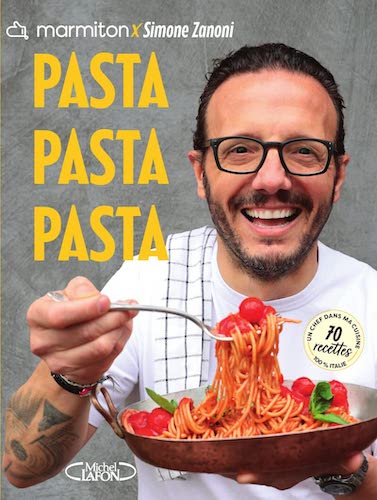 pasta, pasta, pasta
The starred chef of the George restaurant at the Four Seasons Paris, Simone Zanoni shares her passion for pasta with us through 70 recipes with a taste of Italy. Thanks to this book, you will learn how to make your own pasta and accompany it divinely with sauces, meats, vegetables and you will never make carbonara with fresh cream again!
Author: Simone Zanoni x Marmiton – Publication: May 25, 2022 – Editions Michel Lafon, €18.95
Buy the book
---
My small healthy desserts
With this book of 50 simple and delicious recipes, you will learn how to replace the sugar in your desserts with honey, fresh or dried fruit, spices… and butter with compote, cottage cheese and even vegetables. Something to enjoy with impunity!
Author: Amandine Bernardi – Publication: March 16, 2022 – Editions Larousse, €14.95
Buy the book
---
My art of receiving
Melon juice with honey and tarragon, Lemon orzo soup, Pizza with grapes and figs, Zucchini and feta pasta, Chicken with coconut, Puff pastry pear… Héloïse Brion gives us 50 delicious seasonal recipes and all her tips for decorate your table and make the most of convivial moments with friends or family, without spending your life in the kitchen.
Author: Héloïse Brion – Publication: May 25, 2022 – Editions Flammarion, €25
Buy the book
---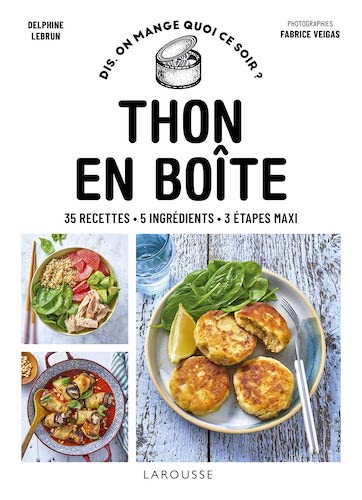 Say, what are we eating tonight – Canned tuna
After ground beef, chicken, eggs… the "Say, what are we eating tonight" collection is expanding with 3 new books that make life sweet and easy for us. Ton en can, Tomatoes and Puff pastry are the 3 new opuses of 35 simple and gourmet recipes made from 5 Ingredients and only in 3 stages of preparation.
Author: Delphine Lebrun – Photographs: Fabrice Veigas – Publication: April 27, 2022 – Editions Larousse, €8.95
Buy the book
---
Small and big history of cereals and pulses
Cereals and pulses have been the basis of food throughout the world for millennia. Eric Birlouez, agricultural engineer and sociologist tells us about their agricultural, geographical, cultural and gastronomic history as well as their benefits in terms of health, food security and world stability. Exciting !
Author: Eric Birlouez – Publication: April 21 – Editions Quae, €22
Buy the book
---
Breakfast all day! – 80 recipes to get you off on the right foot!
More than tasty breakfast recipes, Carie Salomon delivers something to enjoy from morning to night with 80 simple, balanced and original recipes with multiple influences: Ricotta toast, porridge with golden latte, frittata, pancakes, muffins, donuts, bagels , huevos rancheros or vegan omelette, without forgetting vitamin drinks or homemade vegetable milks
Author: Carrie Salomon – Publication: May 20, 2022 – Editions de La Martinière, €25
Buy the book
---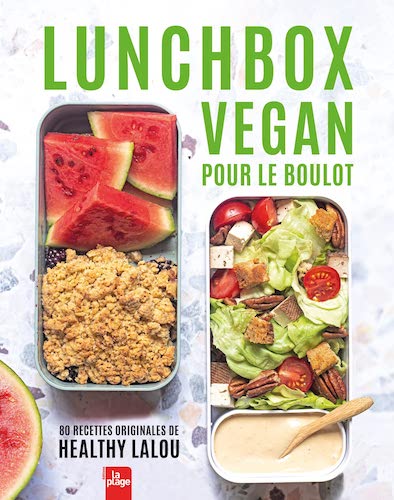 Vegan lunch box for work
Do you want to treat yourself healthy even at the office? For all those who don't have a canteen or who can't find what they want there and who can't stand buttered ham anymore, here are 80 nomadic recipes to put in a lunch box.
Author Healthy Lalou – Publication: May 11, 2022 – Editions La Plage, €15.95
Buy the book
---
Gourmet recipes of fruits and vegetables from our territories
Godfather of the International Year of Fruits and Vegetables, the former chef of the Elysée Palace, Ambassador for Gastronomy and Food promotes plants by honoring French producers through more than 50 festive and gourmet recipes. , over the seasons.
Author: Guillaume Gomez – Illustrations: Aurélie Sartres – Publication: May 5, 2022 – Editions Cherche Midi, €25
Buy the book
---
Sharing – 70 simple and user-friendly recipes
"Eating well is also living well!" This is the motto of chef Grégory Cohen and Ali Rebeihi, two epicurean friends, who sign this new cookbook. One gives his best recipes, the other evokes memories and reflections of moments shared around a meal through 70 recipes classified into 9 moments of life: The taste of childhood, Family Sunday, Delights for singles, so chic picnic…
Author: Grégory Cohen & Ali Rebeihi – Publication: May 6, 2022 – Editions de La Martinière, €25
Buy the book
---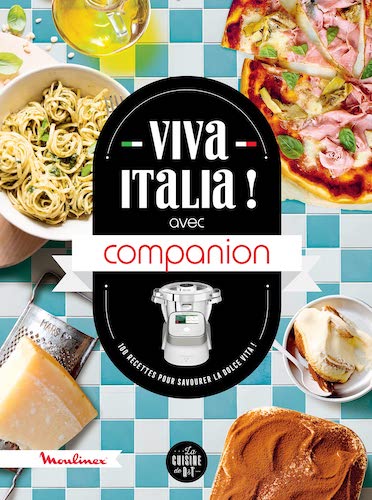 Viva Italia! with Companion – 100 recipes to savor la dolce vita
Pasta of course, but also bruschetta, arancini, pannetone, osso buco… The 100 recipes in this book, to be made at the Companion, are a true immersion in Italian gastronomy and culture.
Author: Séverine Augé – Photographs: Aline Princet – Publication: April 20, 2022 – Editions Dessain and Tolra, €20.95
Buy the book
---
Happy birthday ! – 40 gourmet and creative recipes
Certainly, the chocolate cake is always fun, but the princess castle, the treasure chest or the mermaid cake, provide immense pleasure and unforgettable memories. This magic can be tasted thanks to 40 original, gourmet and spectacular recipes, all easy to make.
Author: Sarah Vasseghi – Photographs: Guillaume Czerw – Publication: May 20, 2022 – Editions de La Martinière, €22.90
Buy the book
---
The City goes to the table! – The adventure of the international city of gastronomy and wine of Dijon
The International City of Gastronomy and Wine has just opened its doors in Dijon after 12 years of work to offer a showcase for the values ​​of "eating well" and "drinking well". This mook sets out to discover this new original place, a must on the Route des grands crus, where culture and entertainment combine with delicacy!
Author: Benjamin Sirom – Publication: May 11, 2022 – Editions Autre, 17 €
Buy the book
---
My plant-based pastry – 40 creative and tasty recipes
Without losing the hallmarks of fine pastry, Anaïss Galpin has developed a 100% plant-based pastry, placing great importance on texture and intensity of taste. In this book, she offers us nearly 40 accessible recipes and demonstrates that plant-based pastry can become everyday while remaining as delicious as traditional pastry.
Author: Anaïs Galpin – Photographs Adéral Piot – Publication: May 6, 2022 – Editions de La Martinière, €25
Buy the book
---
Small dishes like in Greece
For a real trip to Hellenic land, this book offers 30 essential recipes to concoct with a minimum of ingredients, all in no time.
Author: Luna Cemachovic-Maissi – Photographs: Sandra Mahut – Publication: May 18, 2022 _ Marabout Editions, €6.99
Buy the book
---
100 special slimming recipes – Super beginners
This book allows you to compose lighter menus to keep your figure all year round thanks to 100 healthy, light and easy-to-prepare recipes to achieve your goals while enjoying each meal.
Author: Collectif – Publication: May 11, 2022 – Marabout Editions, €4.95
Buy the book
---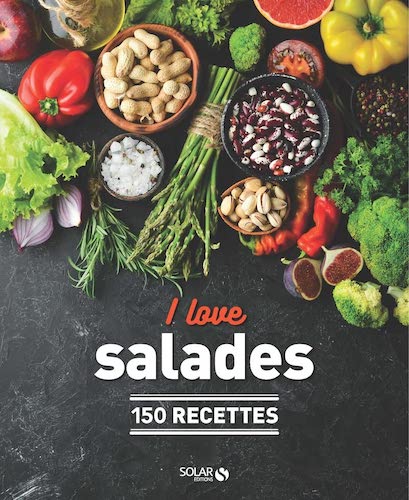 I love salads – 150 recipes
Potato and head cheese salad, 2 cabbage salad, Vosgienne salad, scallop and citrus salad, chickpea and onion salad, fruit salad with basil syrup… the 150 recipes in this book can be savoured, throughout the year, as a complete meal or as an accompaniment.
Authors: Dorian Nieto & Virginie Robichon – Publication: May 5, 2022 – Solar Editions, €15.90
Buy the book
---
Babka Zana – History of a Levantine Bakery
The creators of Babka Zana, reveal behind the scenes of their Levantine bakery at 9th arrdt de Paris, by giving us their divine babka dough recipe, the ways to shape it in individual or traditional format and to garnish it. We also find in this book recipes for rugelachs, borekas and challah bread to make sandwiches.
Authors: Sarah Amouyal & Emmanuel Murat – Publication: May 25, 2022 – Editions Hachette Pratique, €22.50
Buy the book
---
From head to plate
In this book, Jérémy Gorskie, dietitian and former emotional eater, accompanies you on the road to change thanks to tasty recipes, without untenable restrictions and the assurance of long-term results.
Author: Jérémy Gorskie – Publication: May 12, 2022 – Editions First, €16.95
Buy the book
The gastronomic books of May 2022 are available in bookstores and online on the publishers' sites.
ALCOHOL ABUSE IS DANGEROUS FOR YOUR HEALTH, CONSUME WITH MODERATION.