Desserts
Istanbul: Capital of gastronomy
Appetizing street specialties, the most colorful pickles, the freshest fruits, fish and seafood caught daily, delicious vegetables cooked in olive oil and dozens of different meze plates… From elegant tables to the most simple, Istanbul is a real paradise for all gourmets… Welcome to the paradise of gastronomy!

Written by the Turkish Tourist Board on Monday, May 16, 2022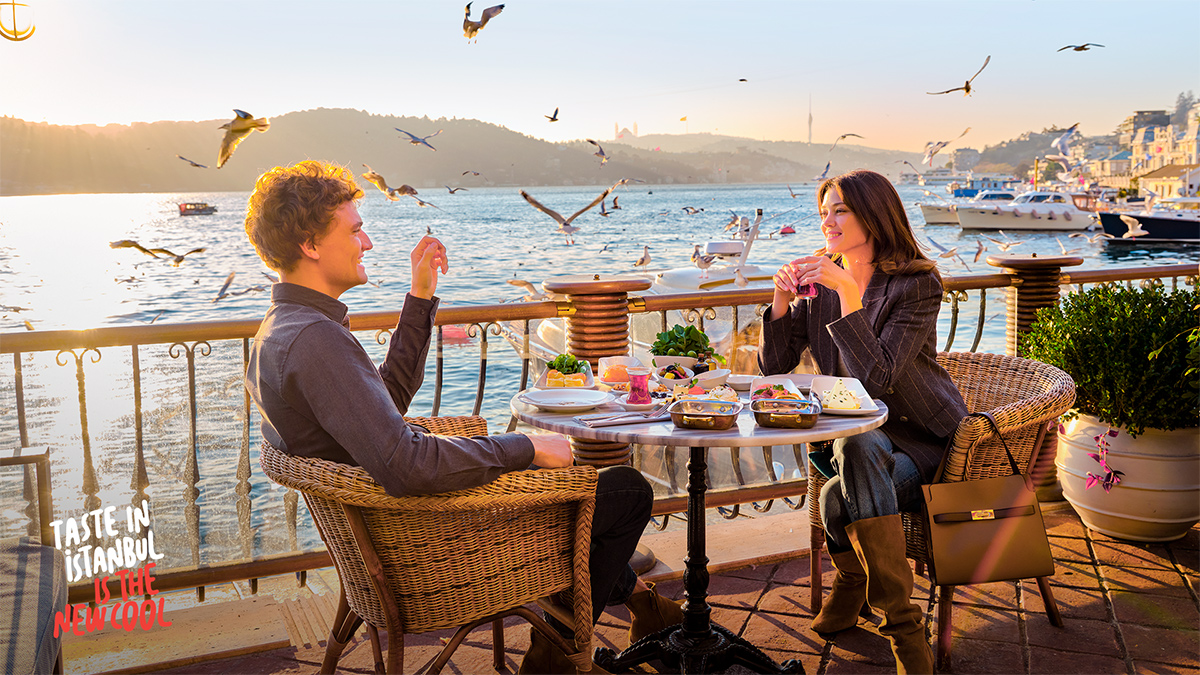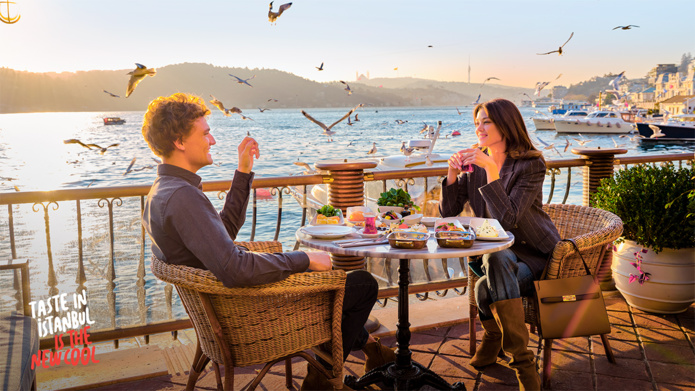 © GoTürkiye
Turkish cuisine is worldwide famous for its kebabs and baklavas. But these prized specialties are only a foretaste of the riches of its cuisine.
Türkiye has a vast gastronomic heritage thanks to the multicultural character of the Ottoman and Byzantine empires, the rich and varied geographical characteristics and the culinary traditions of each region of the country. Meeting point of two continents, the megalopolis shelters all the regional specialties in the image of the expanse of the country. From skewers with full-bodied flavors and vegan specialties cooked in olive oil, traditional Turkish cuisine offers a wide variety of flavors.
And İstanbul is the tasting room…
Incredible flavors
Turkish gastronomy is like an onion skin – it has many layers. And it's like garlic, subtle and surprising. These are unexpected combinations of tastes that come together deliciously.
Nowadays, in Istanbul, some gourmet restaurants are largely inspired by the city's heritage. Respecting the values ​​of Ottoman cuisine, following the recipes of the past, they revisit certain traditional recipes in their tasting menus. Combining melons and lamb, yoghurt in soups and sour cherries in stuffed vine leaves, Ottoman cuisine was truly the key player in the Middle Ages. Capital of the Ottoman Empire, Istanbul was the gastronomic capital of Türkiye par excellence.
The most important meal of the day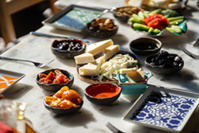 © GoTürkiye
The famous Turkish poet Cemal Süreya said: "Breakfast must have something to do with happiness! This may not be the case for others, but it is 100% true for Turks.
Turkish breakfast is a rich experience accompanied by local brewed black tea, round pasta covered with sesame seeds (simit) or bread, a selection of local cheeses, black and green olives, butter, clotted cream and honey, jam, scrambled eggs with vegetables (menemen) or boiled eggs, sliced ​​tomatoes and cucumbers.
The Kebab and Seafood Experience
In Türkiye there is a wide variety of kebabs – they can be cooked with garlic, eggplant, tomatoes, onions… The meat is marinated with spices and when grilled it gives off a rich smell that promises to satisfy the taste buds. Plates of colorful salads and mezes decorate the tables.
The gastronomic capital of a country surrounded by three seas, Istanbul offers a wide variety of seafood dishes. Grilled bluefish, fried anchovies, horse mackerel, cod, bonito and turbot are the protagonists of the gastronomic scene. Dried mackerel, bottarga, canned local sardines, cold-marinated sea bass and dry salted tuna – served with red onions and dill – are also the town's must-try seafood specialties.
Fresh and cooked in olive oil
The gastronomic experience does not stop there. When it comes to vegetables, Western Turkish cuisine is largely based on olive oil and fresh ingredients instead of heavy spices.
The culinary tradition incorporates a wide range of vegetable dishes called dishes cooked in olive oil. Here, the dishes rely less on seasonings and more on the flavors of fresh ingredients. Therefore, it offers a wide variety of vegetarian and vegan dishes.
The worker's meal: as if it were homemade
In the city, certain places are committed to bringing the culinary heritage to life. Esnaf lokantaları (artisanal fast food) is a centuries-old Turkish tradition and basically established to serve lunch to nearby workers.
These popular lunch spots serve dozens of home-cooked dishes daily – savory soups, legume dishes, stuffed vegetables, rich stews with buttered rice or bulgur and cacık or komposto on the side, and a few desserts. traditional to end the meal.
Hearty specialties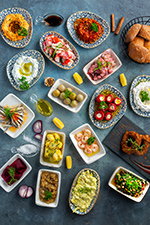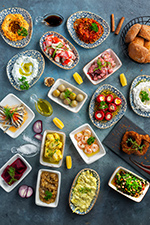 © GoTürkiye
Muhallebiciler (pudding specialty shop) serve another unique Turkish specialty. Traditionally serving milk puddings, you can also enjoy chicken soup here or treat yourself to a nice traditional refreshing dessert on a summer afternoon.
Tavuklu pilav (rice pilaf with chicken), döner skewers and various böreks (baked pastries made of puff pastry, stuffed with meat, cheese, spinach or potatoes) are other specialties that you would see on the menu of a Muhallebici. One of their most amazing specialties is tavukgöğsü – chicken breast with white pudding – the idea may sound strange, it's a very old recipe that has survived until today and is absolutely delicious with a little ground cinnamon on it. Tea is a must, don't forget to have a glass of it before you leave.
Love at first sight: street food
Speaking of tea, don't miss the chance to stop at a tea garden by the sea, order yourself a cup of black tea and enjoy the view. Or indulge yourself with freshly squeezed juices, fresh fruit and desserts from the stalls.
İstanbul is a perfect address for pickles… With their unique astringent smell, bright colors and mixed flavor combining spicy, sweet and sour, it is a paradise for vegans. These pickles can be sold on the street as an accompaniment to chickpea rice.
You will certainly find that you will not be able to resist snacking in this city.
Just follow the smells: roasted chestnuts and roasted chickpeas in winter, boiled or grilled corn in summer.
If you get a little hungry, opt for heartier street food delicacies. Simit (sesame bread), kokoreç (charcoal grilled sheep intestines), fried mussels with special garlic tarator sauce, midye dolma (mussels stuffed with rice and spices), all kinds of pastries, if you are a fish lover, a balık ekmek (fish sandwich) on the go.
Sweets for fine palates
Confectionery in Türkiye has been part of everyday life for centuries. Traditional delights and sweet treats fill the shops. The confectioner chefs offer sweets of all colors and all tastes. The traditional Ottoman classic akide şekeri (handmade rock sweets) was invented in the 16th century at a time when sugar was more valuable than honey. These candies in various colors and flavors – bergamot, lemon, orange, strawberry, rose, sesame, hazelnut, mint, cinnamon… all promise an amazing sensation.
If you have time, sit down and enjoy a large glass of homemade lemonade or treat yourself to a traditional sorbet (tamarind, poppy, rose or carnelian).
In addition to sweets and caramels, do not forget famous Turkish delights and the tasty marzipan and pistachios. Remember to take some home to share the sweetest moments of your trip with your loved ones!
Istanbul, one of the world's most extraordinary culinary destinations, joins the MICHELIN guide family. Considered the most prestigious restaurant rating body in the world, the guide will announce the selection of Gastrocity Istanbul on October 11, 2022.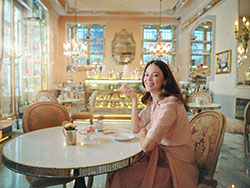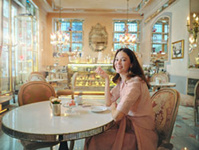 © GoTürkiye
Istanbul, one of the world's leading centers of food tourism, offers its diners cuisine shaped by a unique cultural heritage that is reflected in the city's award-winning fine dining establishments. This rich "gastrocity" has been the subject of a special selection in the MICHELIN guide, the most famous collection of restaurant ratings in the world.
Information and contact details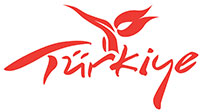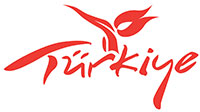 Note
.