RECIPES – Make way for salads! With the arrival of summer temperatures all this week and from this Sunday, May 8, dishes to be heated in the microwave no longer seem appropriate. Michel Cymès offers you a bit of freshness in his recipe book entitled Whole saladsideal for your lunch breaks.
"Give me a recipe that is easy to prepare, tasty and balanced, which can be adapted as you like, and which also suits all appetites, big and small…Of course, it's a complete salad! ", he writes.
A panel of ingenious recipes is on offer, achievable with whatever comes to hand. From classic salads to the most exotic, with unique sweet and savory combinations. Enough to make your colleagues jealous during the lunch break… Bon appétit!
Recipe Buddha bowl red beans, tortis and summer vegetables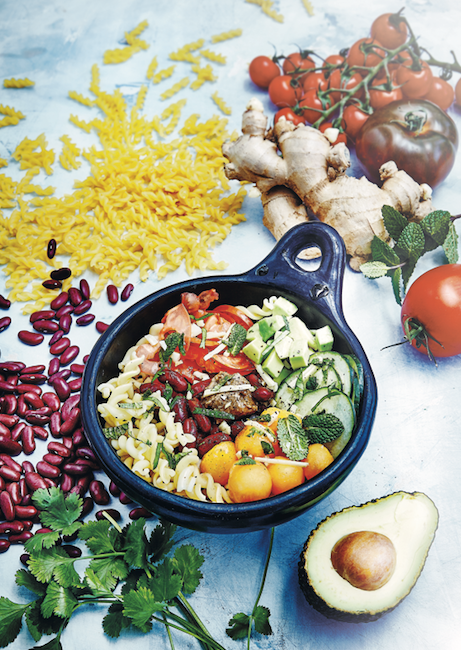 120 g tortis
240g red kidney beans
1 melon
3 elongated tomatoes
½ cucumber
1 avocado
1 small piece of ginger
1 clove of garlic
5 sprigs of cilantro
1 sprig of mint
Juice of ½ lemon
4 tbsp. white sesame paste
Olive oil
Salt pepper
Cook the pasta for 7 to 10 minutes in a pot of boiling salted water following the instructions on the package, then drain.
Wash and drain the beans. Cut the melon in half, remove the seeds and make balls using a melon baller. Wash the tomatoes and cucumber, then cut them into slices. Peel the avocado and cut it into cubes. Peel the ginger and garlic, then chop them.
Also chop the cilantro and mint after rinsing them.
Mix in a bowl 1 tablespoon of oil, the juice of half a lemon, salt, pepper, half of the herbs, ginger and minced garlic.
Divide without mixing them, in 4 flared bowls, the pasta, the beans, the tomatoes, the avocado, the cucumber and the melon. Place 1 teaspoon of sesame paste in the center of each bowl. Cover everything with sauce and enjoy immediately.
Thanks to the combination of pasta, red beans and sesame puree, this vegetarian salad provides all the essential amino acids. Do not hesitate to sprinkle it with crushed pistachios, sunflower or pumpkin seeds to further boost its intake.
Quinoa Tabbouleh with Chickpeas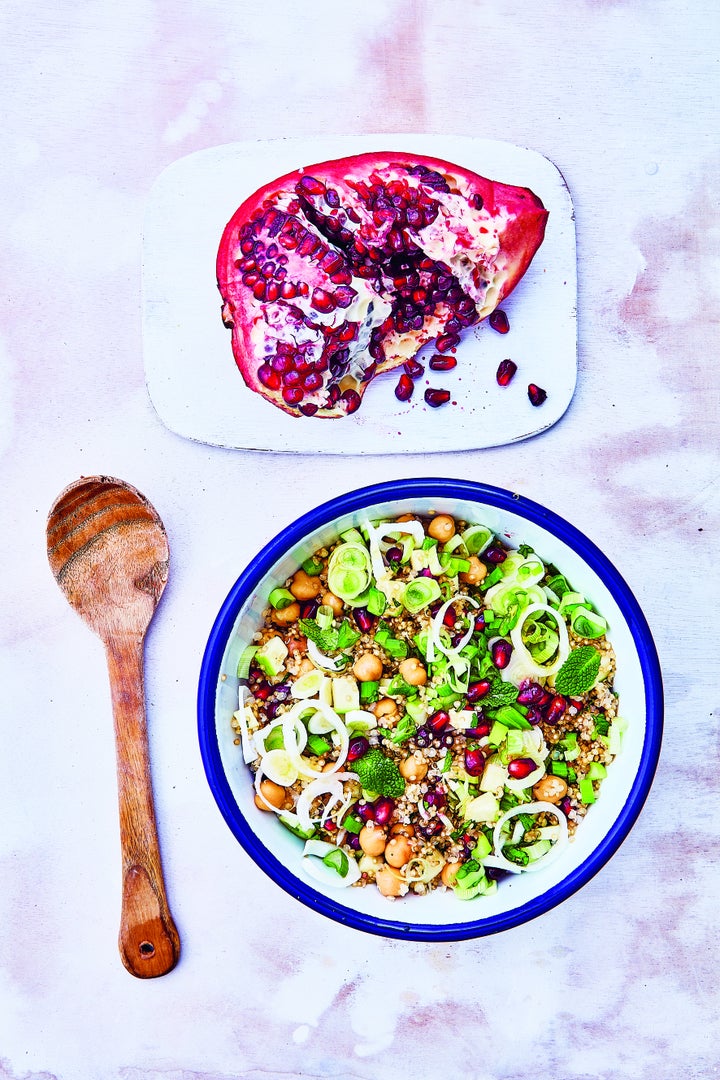 200g quinoa
150 g canned chickpeas
1 bunch of mint
1 small pomegranate
1 small zucchini
2 spring onions with their stem
Juice of 1 lemon
Olive oil
Salt pepper
Cook the quinoa for 15 minutes in a pot of salted boiling water, then drain it.
Rinse and drain the chickpeas. Wash the mint and chop finely. Cut the pomegranate in half and deseed it.
Wash the zucchini and cut it into brunoise. Wash the onions and chop them finely.
In a salad bowl, mix the quinoa, diced zucchini and chickpeas with the mint, then add the onions and pomegranate seeds. Drizzle the whole thing with a squeeze of lemon juice and 2 tablespoons of oil, then season.
Anti-aging, anti-inflammatory, even anti-cancer… the list of virtues attributed to pomegranate is (almost) endless. Rich in antioxidants thanks to a set of polyphenols, including anthocyanins and tannins which fight against cellular aging and inflammation, it also contains an abundance of punicalagin (from its Latin name, Punica granatum), an anti-flu compound specific to the grenade. Finally, it contains ellagic acid, anticancer, which is also found in other fruits, but in smaller quantities. It is this synergy of compounds that makes it such an interesting fruit for health.
chicken buddha bowls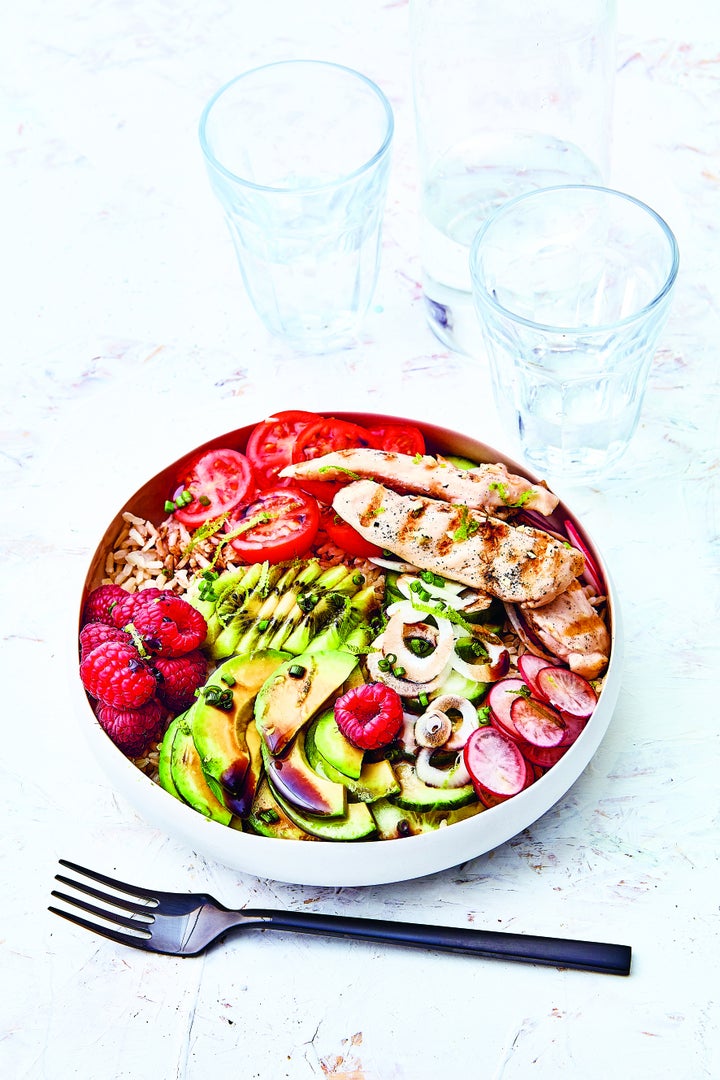 150 g brown rice (or quinoa, semolina, bulgur…)
1 clove of garlic
200g chicken strips
½ cucumber
5 radishes
2 spring onions with their stem
½ avocado
1 kiwi
60g raspberries
10 cherry tomatoes
A few sprigs of chives
2 tbsp. sesame oil
2 organic limes
1 tbsp. raspberry vinegar
Salt pepper
Cook the rice for 12 to 15 minutes in a pot of boiling salted water.
Peel and chop the garlic clove and cover the chicken strips with it, then season them. Roast them in the pan for 10 minutes.
Wash and cut the cucumber, radishes, onions and their stems into slices. Peel the avocado and also cut it into slices. Peel the kiwi and cut it into slices. Wash the raspberries. Wash the cherry tomatoes and cut them in half.
Wash the lemons, remove a little zest and squeeze the fruit. Prepare the sauce by mixing the ingredients in a bowl and seasoning it.
Place the rice in the bottom of a large bowl, then arrange the chicken strips, vegetables and fruit harmoniously on top. Coat the salad with sauce, sprinkle with chopped chives and sprinkle with lemon zest.
Do you know yellow kiwis? Very rich in vitamin C (161 mg per 100 g), sweeter than greens, they also bring an unexpected touch of color to recipes!
Red rice salad, pineapple prawns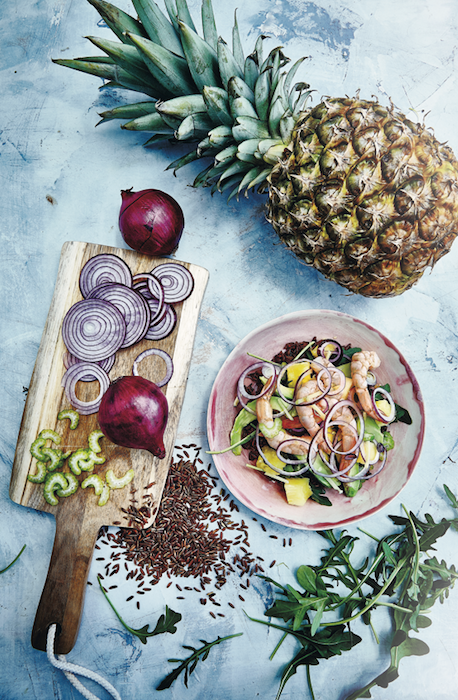 250g red rice
400 g fresh or canned pineapple (juice, unsweetened)
1 small heart of celery
1 purple onion
1 avocado
400g peeled cooked prawns
2 handfuls of washed arugula
Olive oil
White balsamic vinegar
Salt pepper
Cook the rice for 20 minutes in a pan of salted boiling water, then drain it.
Peel the pineapple, remove the eyes, remove the core, then dice it. Wash the celery, peel the onion and chop finely. Peel the avocado and cut it into thin slices. Wash and pat the prawns dry.
Arrange the cooled rice in a bowl, add the arugula, celery, pineapple and avocado.
Add 2 tablespoons of white balsamic vinegar, 2 tablespoons of oil, then season and mix.
Arrange the prawns on the vegetables and sprinkle with onion before serving.
The pineapple has long been attributed fat-burning virtues… But let's not go too fast. It contains indeed bromelain, an enzyme that participates in the degradation of proteins (and not really lipids!). A little pineapple during a meal containing meat or fish therefore helps digestion, and that's already not so bad. Note: only fresh pineapple contains bromelain, canned pineapple does not!
Salmon trout salad and crunchy vegetables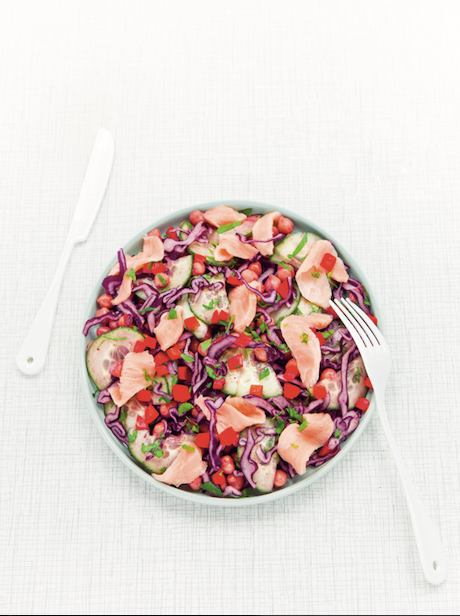 1 red bell pepper, diced
500g canned chickpeas
½ red cabbage
¼ cucumber
½ bunch of parsley
2 salmon trout steaks
1 tbsp. tablespoon white wine vinegar
1 tbsp. paprika
½ tsp. lemon juice
2 tbsp. teaspoon sunflower oil
Salt pepper
Cut the bell pepper into cubes and steam them for 15 minutes.
Prepare the vinaigrette by mixing all the ingredients in a bowl and seasoning it.
Rinse and drain the chickpeas.
Wash and chop the cabbage. Wash the cucumber and cut it in half and then into thin slices. Rinse and chop the parsley. Cut the trout into thin strips.
Place the chickpeas, cabbage, parsley, bell pepper and cucumber in a salad bowl, then pour the vinaigrette over them and toss gently.
Divide the preparation among 4 plates and add the trout strips on top.
Need to improvise a meal in two stages, three movements? Replace the trout with canned sardines, plain or in olive oil (avoid sardines in sunflower oil: the latter is rich in omega 6, present in quantity in food and pro-inflammatory when they are consumed in excess). Rich in protein and anti-inflammatory omega 3, these are basics that you should always have in your closet.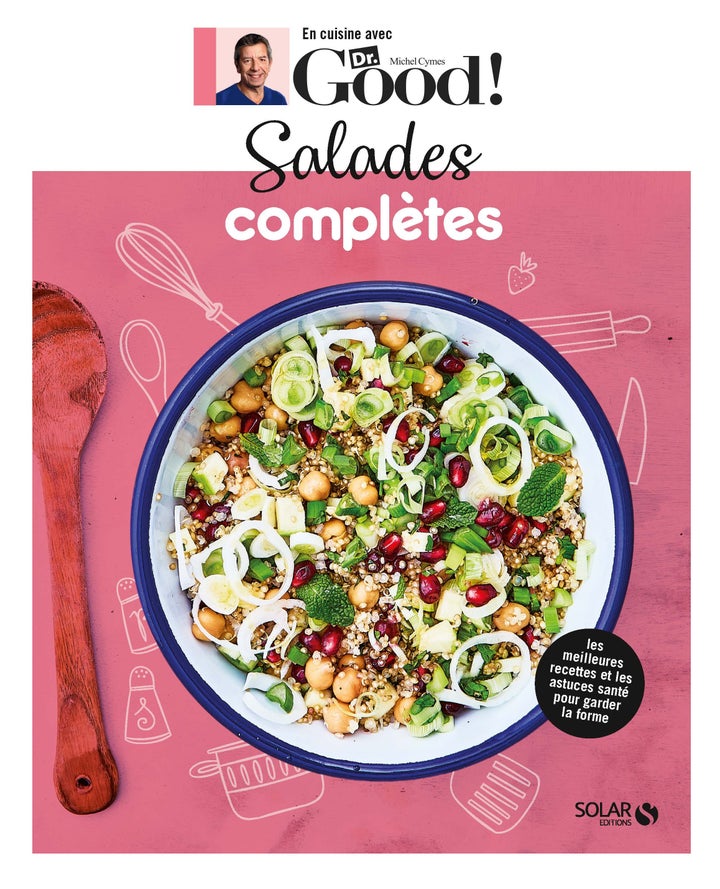 See also on The HuffPost: How to make cheese naan in under 10 minutes? We found the recipe
.