In Charente-Maritime, the Elmut brand develops tasty recipes for cats and dogs, all made from healthy and natural ingredients. "Homemade" meals that go against industry standards, to provide our life companions with all the nutrients they need.
Healthy meals for cats and dogs
Have you ever thought about feeding yourself only low-end processed food, straight from the factory? Yet this is what many cats and dogs face in our homes.
A recent study conducted by French veterinarians tells us that dogs fed healthy food live an average of 32 months longer than those fed industrial food.
Faced with this observation — and as more and more French people, all generations combined, are becoming aware of the importance of giving their pets more balanced food — Maxime Cadin wanted to launch his own brand of meals in 2017. completely "homemade" fresh, for cats and dogs.
To guarantee the quality of the meals offered, all the recipes are made in Charente-Maritime using noble raw materials from French suppliers; the foodstuffs used are also suitable for human consumption.
Without preservatives or additives, the meals are designed to meet the needs of each animal, according to its own criteria. The meat and vegetables are cooked at low temperature to preserve all the vitamins and nutrients, in order to offer the animals tasty meals, full of vitality.
"We make no compromises on the quality and freshness of the products. At the beginning, it was not easy, we had to invent all kinds of recipes, we spent a lot of time refining the recipes to find the optimum palatability and balance. ; we tasted the dishes ourselves! When we launched the brand, the objective was then to adapt the production system of our kitchens to our specifications, and not the other way around, in order to guarantee high quality food that retains this artisanal identity of homemade "says Maxime Cadin.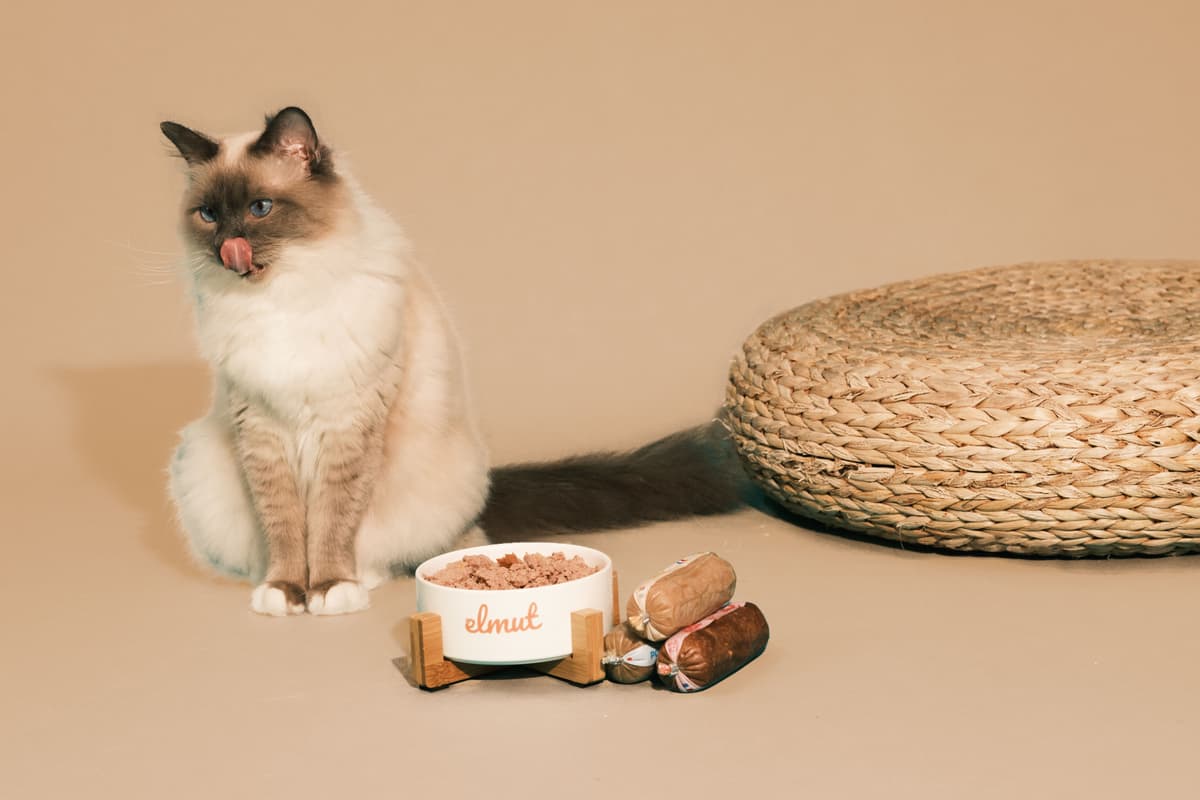 If originally, the Elmut brand was exclusively reserved for our dog friends, the company was quickly forced to create meals for cats, in the face of persistent requests from their owners who also wanted to have good recipes. for their pet.
Back in the kitchen, the Elmut teams then worked on meals adapted to the physiological needs of felines.
Little interested in their bowl of water and often fed with dry kibble, cats regularly suffer from urinary or kidney pathologies, which can cause serious health problems. The idea was then to provide them with all the nutrients they need with recipes rich in water, in order to guarantee the proper functioning of their organism in the long term.
Many benefits observed on animal health
After feeding Elmut brand meals to their dog or cat for several months, owners notice many improvements in their pet's health.
In addition to a better appetite, an improvement in their transit, and better general health with a silkier coat, animals tend to develop fewer allergies; a benefit for their health in the short term, but also in the long term.
"Our balanced recipes are for all pet owners, regardless of income level. Our balanced recipes are for all homeowners, regardless of income level. We have indeed many long-time customers who tell us that they have less need to consult the veterinarian since they give their companion our fresh meals.
Meals delivered monthly to your home
To offer fresh and healthy meals to their cat or dog, owners can go to the company's website to fill out a short form providing information about their animal and its lifestyle. .
Once the order has been placed, the meals are then delivered directly to the owners' homes, thanks to a no-commitment subscription system.
While food is a pillar of human health allowing us to maintain our body in good health, a large number of cat and dog owners are now becoming aware of the importance of giving healthy meals to their animals in order to to keep them healthy too.
Through its balanced recipes, the French brand Elmut intends to offer a healthy alternative to industrial foods so that our pets can live with us longer, while minimizing the risk of developing a chronic disease.
This content was produced in partnership with OpenMédias. BFMTV's editorial staff did not participate in the production of this content.
Renaud Coldepin Bizdev Manager